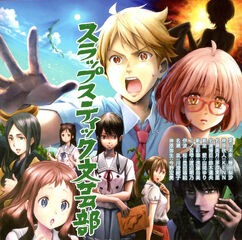 Kyoukai no Kanata Drama CD: Slapstick Bungei-bu (『境界の彼方』ドラマCD スラップスティック文芸部, lit. Kyoukai no Kanata Drama CD : Slapstick Literary Club) is the first and only drama CD of the Kyoukai no Kanata anime series. It is performed by Risa Taneda, KENN, Chihara Minori, Tatsuhisa Suzuki, Yuri Yamaoka, Naomi Shindo, Akeno Watanabe, Moe Toyota, Ayako Kawasumi, and Hiromi Konno, playing the roles of Mirai Kuriyama, Akihito Kanbara, Mitsuki Nase, Hiroomi Nase, Ai Shindou, Ayaka Shindou, Shizuku Ninomiya, Sakura Inami, Izumi Nase, and Yayoi Kanbara, respectively. It was released on December 11, 2013.
Tracklist
Edit
The Literary Club's Emergency Meeting (文芸部の緊急会議, Bungei-bu no Kinkyuu Kaigi)
Mitsuki's Dictatorship Over the Literary Club (美月の独裁文芸部, Mitsuki no Dokusai Bungei-bu)
Mirai Kuriyama's Emergency Situation (栗山未来の非常事態, Kuriyama Mirai no Hijou Jitai)
Outrageous Youmu (けしからん妖夢, Keshikaran Youmu)
Settling it by Making Use of its Wishes (情に訴える解決法, Jou ni Uttaeru Kaiketsuhou)
The Truth Hunting Akihito Down (秋人を襲う衝撃の真実, Akihito wo Osou Shougeki no Shinjitsu)
References
Edit
Ad blocker interference detected!
Wikia is a free-to-use site that makes money from advertising. We have a modified experience for viewers using ad blockers

Wikia is not accessible if you've made further modifications. Remove the custom ad blocker rule(s) and the page will load as expected.