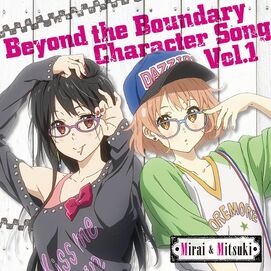 Kyoukai no Kanata - Character Song Vol.1 (TVアニメ『境界の彼方』キャラクターソングシリーズ Vol.1) is the first of two character song albums. The songs were performed by Risa Taneda and Chirara Minori, playing the roles of Mirai Kuriyama and Mitsuki Nase, respectively. The album was released on November 27, 2013.
Tracklist
Edit
Displeasing Diary Performed by Risa Taneda
Because of "S"adness Performed by Chihara Minori
Ordinary Girl's Talk! Performed by Risa Taneda & Chihara Minori
Ad blocker interference detected!
Wikia is a free-to-use site that makes money from advertising. We have a modified experience for viewers using ad blockers

Wikia is not accessible if you've made further modifications. Remove the custom ad blocker rule(s) and the page will load as expected.