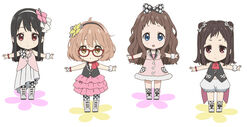 "Judgement Ja!" (Judgmentじゃ!) is an insert song introduced in the idol-themed spinoff of the Kyoukai no Kanata anime, Idol Trial. It was performed by Risa Taneda, Chirara Minori, Yuri Yamaoka, and Moe Toyota, playing the roles of Mirai Kuriyama, Mitsuki Nase, Ai Shindou, and Sakura Inami, respectively.
It is included on the Kyoukai no Kanata Original Soundtrack "Beyond the Melodies".
Ad blocker interference detected!
Wikia is a free-to-use site that makes money from advertising. We have a modified experience for viewers using ad blockers

Wikia is not accessible if you've made further modifications. Remove the custom ad blocker rule(s) and the page will load as expected.