Akihito Kanbara


Kanji

神原 秋人

Rōmaji

Kanbara Akihito

Also known as

Akkey (by Hiroomi)
Akkun (by Yayoi)

Description
Race
Gender

Male

Sign

Libra

Birthday

October 7th

Age

16

Blood Type

A

Height

171 cm (5' 7")

Professional Status
Occupation

2nd year High School Student Literary Club vice-president

Affiliation

Literary Club

Personal Status
Relatives

Yayoi Kanbara (mother)

Debut
Anime

Carmine (episode 1)

Voice Actors
Japanese
Akihito Kanbara
(神原 秋人
Kanbara Akihito
) is one of the main characters of the
Kyoukai no Kanata
series. He is a second year student and a member of his school's Literary Club. He is a
Half-Youmu
and has the ability to instantly heal from his wounds. Unlike most people, he is mostly familiar with the affairs of
Spirit World Warriors
and
Youmu
. Because of this and his unique trait, he becomes a subject of curious scrutiny.
[1]
Appearance
Edit
Akihito is a teenage boy, with blonde hair and brown eyes. He is primarily seen wearing his school uniform.
Personality
Edit
He likes glasses very much, including "bespectacled beauties" or girls who wear glasses. He tends to call Mirai a bespectacled beauty and often imagines Mitsuki wearing glasses. This even reaches the point of calling himself a Meganest, which means an extreme fetish for glasses. Aside from that, Akihito has a very playful, friendly, somewhat sarcastic yet sincere personality. 
Akihito was born as a half-Youmu from a human mother and supposedly immortal Youmu father. During his childhood, he was once hit by a car but came right back up unscathed. This made people fear him and isolate him. Nothing else much is known about his past but it is known that Akihito's Youmu side awakened during a past incident with Hiroomi and almost killed him. Due to this, the Nase family arranged a deal between them in order to avoid further obliteration of the vicinity due to Akihito's Youmu side.
In spite of his bloodline, Akihito manages to live through school life like most students, although he often spends his time alone. His usual companions include Mitsuki Nase, the president of the Literary Club, and Hiroomi Nase, an acquaintance of his who acts as a "watchman" of sorts.
Meeting Mirai Kuriyama
Edit
One spring day, Akihito meets a girl in glasses after seeing her in the edge of the rooftop, as if attempting to jump off the school building. This girl, named Mirai Kuriyama, would stab Akihito in their first meeting, only to be surprised to see that he survived the sudden attack.[2][[ Akihito would spend the next week being impaled by Mirai's weapon, a sword made out of her own blood.
Mirai soon confesses that her tendency to attack Akihito stems from her lack of self-confidence in fighting youmu. To answer this problem, Akihito decides to help out Mirai in gaining the confidence to fight youmu by herself and to earn some money from her duties as a Spirit World Warrior.[3] Both Mitsuki and Hiroomi prohibit Akihito from interacting with Mirai, but Akihito stubbornly pushes through. His efforts eventually paid off, as Mirai successfully defeats the Hollow Shadow, noted as one of the most powerful youmu, although at the cost of Akihito almost losing to his youmu side.[4] Following the Hollow Shadow incident, Akihito's friendship with Mirai slowly develops as Mirai finally joins the Literary Club after Akihito's attempts to recruit her.[5]
The Calm and the Storm
Edit
Weeks later, Mirai is already a usual sight in the Literary Club, bringing along her bonsai obsession to the clubroom. Meanwhile, Akihito is warned by her mother Yayoi about the Calm approaching Nagatsuki City. True enough, the Calm creeps over the neighbourhood days later, causing Akihito to feel lethargic due to his youmu side being affected by the Calm. Izumi Nase, who has been watching over Akihito as part of the governing Spirit World Warrior clan in Nagatsuki City, attacks Akihito using a Glaciate Barrier. As a result, Akihito's youmu half reemerges.[6]
The presence of Akihito in his youmu form is specified by Izumi as a threat that must be eliminated at once. For this reason, she entrusts the role of killing Akihito to Mirai, who is later revealed to be working for Izumi since her arrival at Nagatsuki City.[7] In a decisive battle with his friend, the rampaging Akihito falls to Mirai's sword, with Mirai absorbing the youmu inside Akihito, known as Beyond the Boundary, into herself.[8]
Beyond the Boundary
Edit
Akihito only managed to recover three months after his last battle with Mirai. After waking up from a dream generated by a drop of Mirai's blood in his system, he hears from Mitsuki and Hiroomi that Mirai sacrificed her life for his sake, and he is now a normal human. Initially in disbelief for what happened to Mirai, Akihito eventually finds himself heading back to battle as Miroku Fujima, who has been trying to destabilize the Nase family's rule in the area by gathering strength in numerous ways, is now causing Beyond the Boundary to go berserk. With his mother informing him of Mirai surviving the fight and information about Beyond the Boundary, Akihito used a piece of the youmu dislodged from his body (itself a piece of Beyond the Boundary) during the encounter with the Hollow Shadow to penetrate the core of the massive youmu.[9]
He and Mirai reunite inside the realm created by Beyond the Boundary and fought off the threats that come against them, including the many hostile youmu absorbed by Beyond the Boundary. They were successful in driving off the countless youmu inside, and Akihito chose to reabsorb Beyond the Boundary into himself. However, as a result of this, Mirai's body crumbles down to dust as she herself became part of Beyond the Boundary after absorbing the youmu months ago.
Following the disappearance of Beyond the Boundary, Akihito tries to return to his normal life. However, he continues to cling on to Mirai's ring, which was the only thing that remained of Mirai after vanishing. One winter afternoon, Mirai's ring disappears, and Akihito rushes to the rooftop of their school. In the place where they first met, Akihito sees Mirai and he gives Mirai a pair of red-framed glasses. Mirai puts them on and smiles to him[10]
Abilities
Edit
Half-Youmu Physiology
Edit
Akihito is the offspring of a human being and a Youmu.
Regenerative Healing Factor
Akihito has the ability to regenerate from nearly any injury.[2]
When severely injured, Akihito's youmu side takes over, causing him to transform into a feral creature.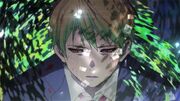 His eyes becomes all black with a multi-color iris and his hair remains blonde only with green highlights at the end. He is also mysteriously surrounded by green energy that is never explained.
Akihito also used his Half-Youmu power once inside the Beyond the Boundary while fighting off Youmu with Mirai, using his hand that held his Youmu powers inside. 
​He can create fire at will that can easily penetrate strong force fields and cause destruction within a mile radius. 
Relationships
Edit
His first name has the characters for autumn (秋) and man (人), while his surname literally means "fields of the gods".
His name is the same as the current Emperor of Japan. 
References
Edit